Graphic Overlays China is a professional manufacturer of Custom Electrical Overlays, Electrical Graphic Overlays, Electrical Panels, Electrical Front Panel Overlays and Membrane Switches.
Electrical Overlay is a graphic overlay, faceplates, nameplates, front panel or function user interface is a kind of silk screen printed or digital printed graphic sheet or panel that is placed on the surface of a product.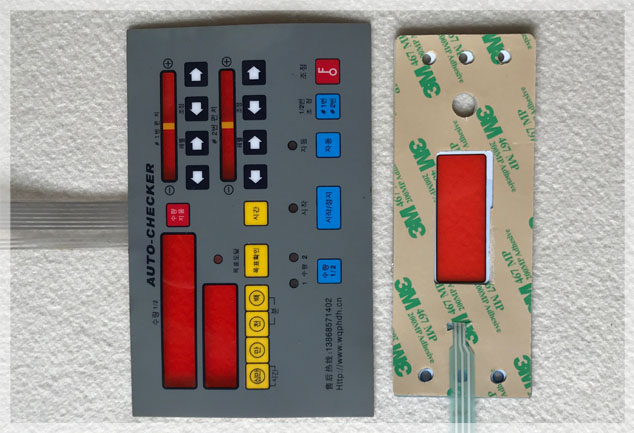 Electrical Overlays are printed on the subsurface of the material like transparent polycarbonate. After printing, double sided adhesive is applied to the back. Electrical overlays that we offer are the scratch resistant panels, which are available in different sizes and specifications as per the requirement of the clients.
Material
Electrical Overlays can be created from a wide variety of material such as polycarbonate, polyester, PVC, vinyl, acrylic and even metal (Anodized Aluminum). Typically, a graphic overlay is made of polycarbonate.
Polycarbonate film thickness available from 125 microns to 750 microns. 125 microns, 175 microns, 250 microns, 380 microns, 500 microns and 750 microns etc. Commonly used is 250 microns thickness. Glossy, Transparent, Matt Textured, Black and Brushed polycarbonate film are available.
Printing
Electrical Graphic Overlays Printing can be done with digital, screen-printing, or a combination of printing processes.
We can do Digital or Offset CMYK Full Color Printing. We can combine digital printing with traditional screen-printing to satisfy your needs.
Custom Electrical Overlays are traditionally subsurface screen printed, predominantly spot color screen printed or full color digitally printed, but can be UV offset printed as well.
Screen Printed Electrical Overlays
For most of our Electrical Overlays, we use screen printing method. Colors are printed one at a time and can be matched to a pantone color specification (PMS) or to a customer supplied sample.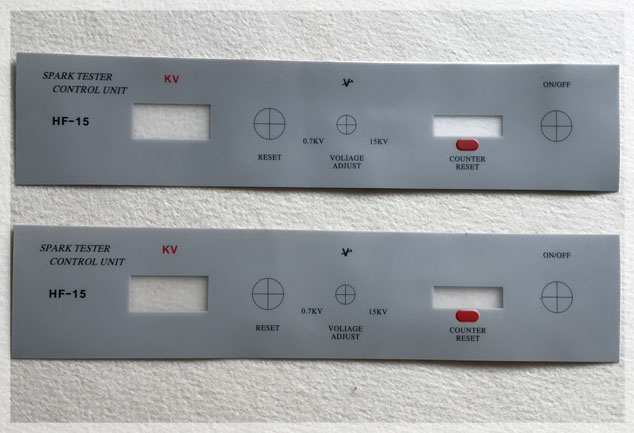 Screen printing advantages like cost effective for mass production, excellent color matching capability, selective texturing of gloss materials and durable inks etc.
We offer our customers affordable short-run printing or prototypes. Digitally printing your electrical graphic overlay provides endless design flexibility and imagination. While color matching is not as exact as screen printing due to the lack of variety in inks.
Digital printing advantages including: design flexibility like full color images, great for very small prototyping volume, prints multiple colors CMYK at once, cost effective and fast turnaround for prototypes. It is most economic for lower quantity and multicolor parts.
Color Matching
Pantone Matching System
RAL Color Matching
Client's Sample Color Matching
Electrical Overlays Specifications
Our Electrical Overlays are available with the options of buttons, clear windows, tinted windows, dead front, selective adhesive, textured and cutouts etc.
Embossing and Buttons
Embossing can be easily integrated into the manufacturing of electrical graphic overlays to give buttons a positive feel. Embossing is a technique that creates a 'bubble' or a raised section of the switch to highlight button positions or give a tactile feedback to the user. Embossing the overlay surface delivers a unique look and feel to your products interface.
Windows, LCD Windows, LED Windows
Electrical overlays are commonly provided with clear windows for viewing LCD's and we provide protection film to a clear window.
If your electrical overlay will be placed over LCD, LED'S or other types of electronic displays, a clear or colored tinted window can be created. This allows the interface to have a clean look while still providing all of the required functionality.
Window tints with translucent colors can be used to indicate specific functions on membrane keypads. We can print tinted windows in a range of colors like black, grey, red, green, orange, yellow etc.
Usually graphic overlays windows are adhesive-free windows.
Dead Front
Dead front electrical overlays offer all the benefits of our standard graphic overlays as well as offering additional panels that are only visible through reverse lighting. Dead front effects can be printed with semi transparent inks so LED's can be "hidden" unless they are lit up.
Adhesives or Selective Adhesive
To finish your custom screen printed graphic overlays, we offer a full range of 3M and equivalent adhesives.
3M9448A, 3M467MP, 3M468MP, 3M9080, 3M9075, 3M200MP, 3M200LSE, 3M300LSE, 3MVHB, 3M Electronics 3M9448HK, TESA and Nitto Adhesive etc.
3M 467MP: Recommended for smooth or light textured surfaces. In most cases, flexible graphic overlays are finished with 3M 467MP on the backside. This is an excellent adhesive for bonding to smooth metal and high surface energy plastic surfaces.
3M 468MP: Recommended for medium textured to rough surfaces. For rougher surfaces, 3M 468MP adhesive is recommended.
3M 300LSE: Recommended for low surface energy plastics, polypropylenes. Some surfaces such as powder coated surfaces have lower surface energy, 3M 300LSE are more appropriate for low surface energy applications.
Another method is to print 3M7533 glue with screen printing.
Adhesive Free for windows and buttons.
Adhesive or selective adhesive can be added for simple application procedures.
We are able to produce quality industrial screen printed graphic overlays in a variety of shapes, sizes and printing options to meet your exact specifications.
Selective Texture
Texture or selectively textured finishes can be added to the surface of an graphic overlay. The more common choice is the velvet finish which is excellent for hiding surface scratches.
Custom Shapes, Cutouts and Sizes
Your Electrical Overlays can be produced to any shape and size you desire. We can do custom cutouts for connectors, too.
Custom Electrical Overlays Manufacturing
We are Custom Electrical Graphic Overlays Manufacturer, Cheap Custom Lexan Electrical Overlays, Polyester Electrical Overlays Printing, Digital Printed Electrical Overlays and Quick Turn Prototype. We make available the bulk quantity of these Electrical Overlays at the most competitive price.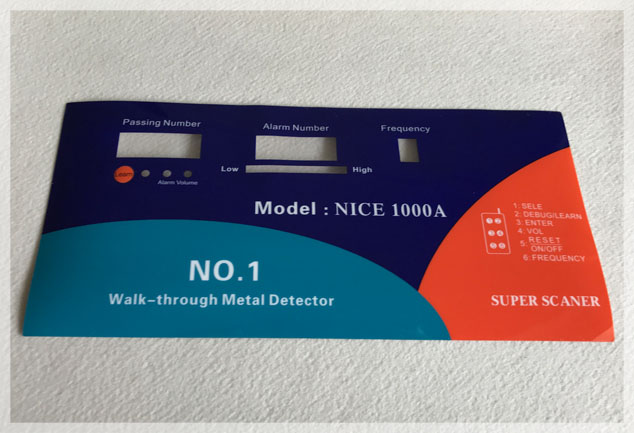 Electrical Overlays Prototyping
We can do Rapid Electrical Overlay Prototypes, No MOQ, Low Cost and Fast Turnaround.
Please contact us for more information about Custom Electrical Overlays.