We specialize in manufacturing Digital Weighing Scales Graphic Overlays, Custom Weighing Machine Stickers, Weighing Machine Stickers, Weighing Machine Indicator Stickers, Weighing Scale Display Stickers, Electronic Weighing Machine Stickers, Weighing Instrument Stickers, Weighing Scale Cabinet Stickers, Weighing Machine Indicator Stickers, Overlays, Plates, Nameplates and Membrane Switches.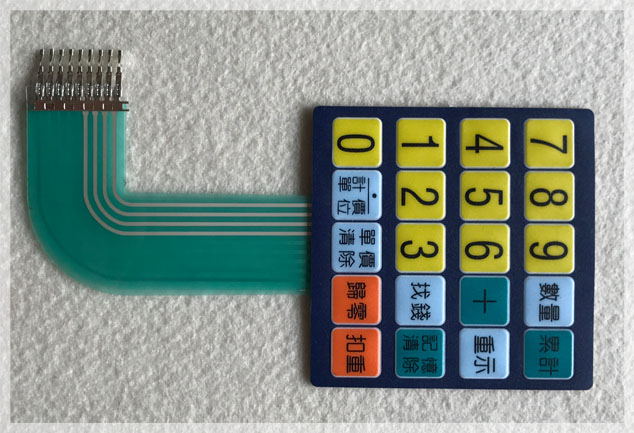 We are able to produce Custom Weighing Machine Stickers in a wide range of materials, graphics, shapes and sizes to meet your exact specifications for use in any application. Digital Weighing Scales Overlays, Plates, Stickers, Nameplates and Membrane Switches can be produced from PVC, Polycarbonate, Polyester, Acrylic or Aluminum. Typically, these Weighing Machine Graphic Overlays produced from PVC, Polycarbonate/PC or Polyester/PET material for their dimensional stability, optical clarity, printability and graphic design freedom.
The design are reverse screened onto the back of the clear pvc/polycarbonate/polyester film and provided with 3M Hi-Bond adhesive for perfect and long lasting bonding. This protecting the printing under the film layer so the sticker can survive extreme environmental conditions, such as high temperatures, chemical abrasions and corrosion.
Digital Weighing Scales Graphic Overlays not only provide a unified, finished appearance for your product but can also communicate vital information to consumers, end users or machine operators.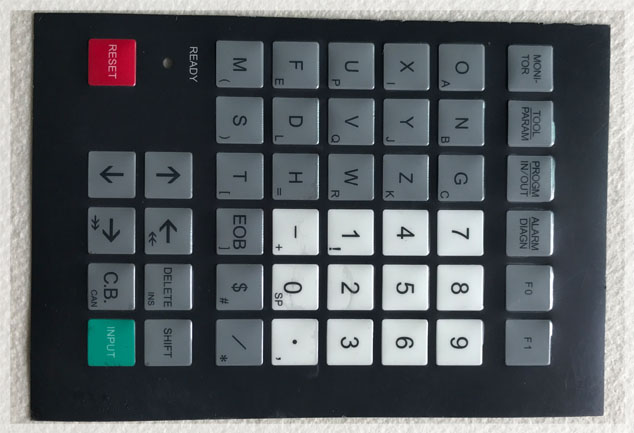 Electronic Weighing Machine Graphic Overlays can include your company LOGO and Branding Identification, Instructions, Display or Button Functions, Dials and Gauges, Safety and Warning Messages etc.
Polycarbonate Weighing Instrument Stickers
Polycarbonate (Lexan) film available in matte, textured, clear (gloss), Brushed, mirror or chrome effect. Standard Lexan PC film thicknesses range from 0.005″ to 0.030″, with other gauges, backing plates or assembly services available upon request.
Polycarbonate Digital Weighing Scales Graphic Overlays are less expensive than Polyester Digital Weighing Scales Graphic Overlays.
Polycarbonate or PC Digital Weighing Scales Stickers are a popular choice in nearly all environments. Polycarbonate Electronic Weighing Scale Sticker include excellent clarity and legibility, impact strength and stability and can provide resistance to Moisture, Heat, Hazardous, Abrasion, Stain and Chemicals.
Polycarbonate Weighing Machine Stickers can be screen printed or digitally printed on the sub surface to provide protection for the graphics. Due to the tactile characteristics of polycarbonate, embossing (Buttons) can easily be integrated into the manufacturing of a polycarbonate weighing machine stickers.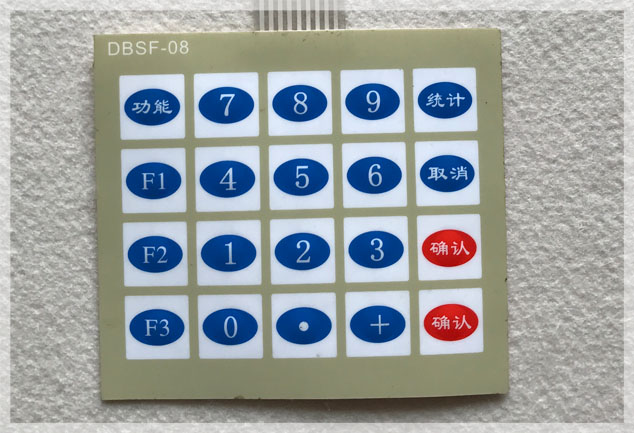 Polyester Digital Weighing Scales Graphic Overlays
Polyester film is tougher, more durable, and more expensive than Polycarbonate and PVC films.
Similar to polycarbonate in material characteristics, polyester Weighing Machine Stickers offer superior fatigue resistance and are the preferred choice in applications where use requires constant flexing. Greater tensile strength than polycarbonate. Custom screen printed polyester weighing scale cabinet sticker are dimensional stability, excellent heat resistance, abrasions and scratch resistance, resistance to chemical, suitable for outdoor use. Recommended for digital weighing scales membrane switches, especially when embossing is involved. Available in matte, selective textured, clear/gloss, clear LCD windows, selective adhesive, embossed finishes.
PVC Digital Weighing Scales Stickers
PVC digital weighing scales stickers are an excellent and more economical choice for use in many industrial applications. We can produce quality Custom PVC Electrical Control Panel Board Stickers that provide a unified, finished appearance for your product. PVC film is durable and moderate abrasion, weather, chemical and moisture resistance.
We provide Custom Digital Weighing Scales Overlays in variety of sizes and shapes as per the requirements of the clients.
Electrical Scales Overlays
Digital Weight Scale Sticker
Weighing Scale Display Sticker
Price Computing Scale Stickers
Weighing Scale Cabinet Sticker
Digital Weight Indicator Stickers
Electronic Weighing Scale Stickers
Digital Weighing Scales Faceplates
Body Weight Scale Graphic Overlays
Digital Weighing Scales Nameplates
Digital Weighing Scales Front Panels
Digital Weighing Scales Graphic Overlays
Electronic Weighing Machine LCD Panels
Digital Weighing Scales Membrane Switches
Digital Weighing Scales Machine Identification
Screen Printed Digital Weighing Scales Overlays
Digital Weighing Scales Graphic Overlay Printing
Digital Weighing Scales Control Panel Board Stickers
Finishes
Digital Weighing Scales Graphic Overlays are available in clear, velvet and embossed. Brushed, mirror or chrome effect. The more common choice is the velvet finish which is excellent for hiding surface scratches. Texture or selectively textured finishes can be added to the surface of an graphic overlay.
Adhesive & Selective Adhesive
3M9448A, 3M467MP, 3M468MP, 3M9080, 3M200MP, 3M200LSE, 3M300LSE, 3MVHB, Nitto Adhesive. Adhesive or selective adhesive can be added for simple application procedures.
Printing Color
We have numerous ink colors in stock, UV ink, PMS (Pantone Matching System) Color, RAL Color Matching, CMYK Full Color. We will also match colors to a customer provided sample.
Special Color like Holographic, Mirror Silver ink, Mirror Gold ink, Chrome Silver ink, Glow in the Dark and Fluorescent inks etc.
Printing Methods
Silk Screen Printing, UV Digital Printing or UV Offset Printing. Or a combination of digital and screen printing processes.
Temperature Ranges
Maximum temperature ranges from 60°C (140°F) to 125°C (257°F).
Windows & Adhesive-free Windows
Transparent and tinted windows and graphics for backlighting, Indicator Lights, LCDs, LEDs and other displays.
MOQ
No minimum order quantities. Small Order Acceptable. Quick prototyping for urgent projects, we do short runs and prototypes.
Lead Time
Fast turnaround.
Usually 4-6 working days.
Need your labels fast? We do Rapid Graphic Overlay Prototyping.
All of our Digital Weighing Scales Graphic Overlays can be custom printed according to your specifications.
Are you looking for Digital Weighing Scales Graphic Overlays or Membrane Switches for your products? Contact us today for specific pricing, technical information or samples, please.