Graphic Overlays China specializes in printing Front Panel Overlays, Control Panel Overlays, Custom Graphics Overlays and Screen Printed Front Panel Overlays.
Front Panel Overlays provide a high quality finish for products, equipment control interface, communicate messages, and act as the interface between people and products.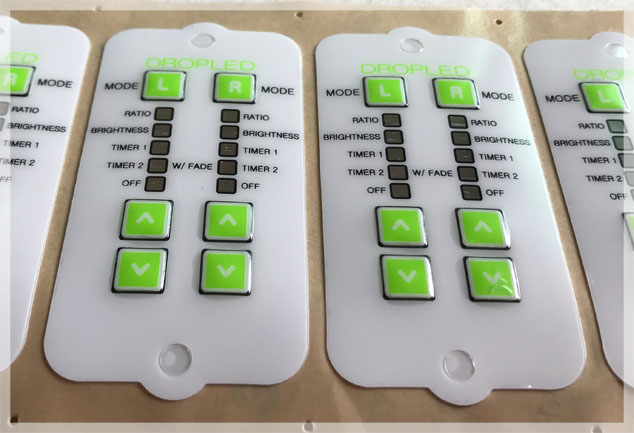 Front Panel Overlays can include display or button functions, logos and branding identification, safety and warning messages, instructions for operation, and dials and gauges.
Front Panel Overlays Application
Our high quality custom screen printed front panel overlays are used in many different industries and applications including Electronics, Gaming Equipment, Medical Equipment, Scientific Instruments, Fitness Equipment, Instrumentation, Marine, Automotive and Telecommunications etc.
Front Panel Overlays Material
Front Panel Overlays can be created from a wide variety of material such as Polycarbonate/PC, Polyester/PET, PVC, Acrylic, Stainless Steel and Aluminum.
Front Panel Graphics, typically produced from polycarbonate or polyester, films can be scratch resistant, UV tolerant, fire retardant, and chemically resistant.
Custom Front Panel Overlays
Front Panel Overlays are used for brand identification whist providing information and instructions for a variety of products.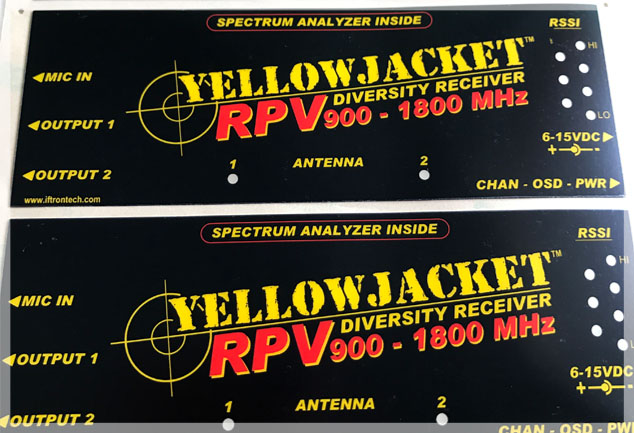 Polycarbonates are known for their dimensional stability, optical clarity, printability and graphic design freedom. Polycarbonate (Lexan, PC) film is a high quality, tough, stable and heat-resistant material ideally suited to a number of graphic and industrial applications. Polycarbonate Front Panel Overlays have superior mechanical strength, toughness and clarity. The polycarbonate Front Panel Overlays can also survive extreme environmental conditions, such as high temperatures, chemical abrasions and corrosion.
High impact strength and resistance to stains, heat, abrasion and corrosive chemicals. Polycarbonate Graphic Overlays are screen or digitally printed on the second surface. Expected exterior life of up to five years.
Polycarbonate Front Panel Overlays (PC Overlays) are commonly used as faceplates, membrane switches or decorative features for control panels, food equipment, instrumentation, consumer appliances, medical devices, automotive, household appliances and electronics. Popular applications for polycarbonate overlays include warning and safety messages, operator or consumer instructions and branding and product identification.
Polyester Front Panel Overlays are extremely weather, scratch resistant and UV resistant stickers. Polyester graphic overlays (PET Graphic Overlays) are strong, durable and have excellent clarity and legibility characteristics.
Recommended for membrane switches, especially when embossing is involved, such as keyboards and keypad switch overlays.
Expected exterior life of up to seven years. More durable than polycarbonate in certain applications.
PVC Front Panel Overlays are cheaper than Polycarbonate Graphic Overlays and Polyester Graphic Overlays. Lacks dimensional stability and heat resistance, but ideal for a narrow range of light-duty applications. Expected exterior life is up to five years.
Silk Screen Printed PVC Graphic Overlays can be used for a variety of purposes like industrial equipment, electronics, appliances, instrumentation, computer hardware, telecommunications equipment, medical field, weighing scale, kitchenware labeling, digital device labeling, branding on outdoor equipment, warning labels for industrial machinery or hazardous locations and numerous other applications.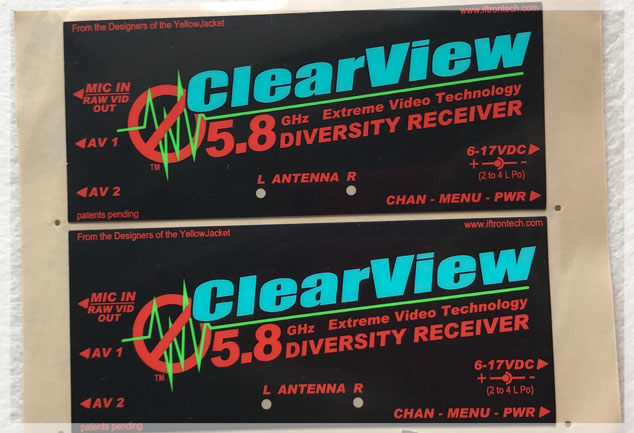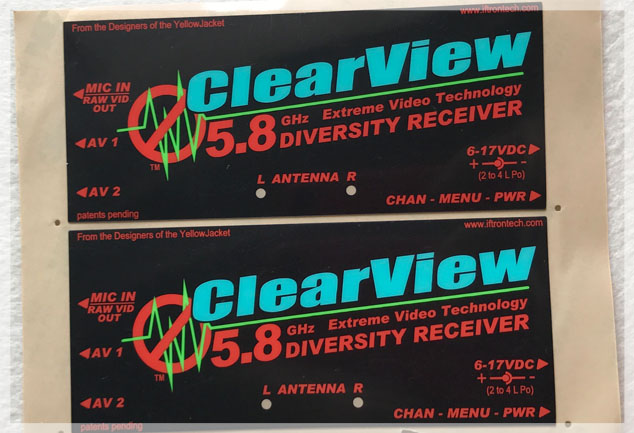 Custom Control Panels
We also can provide custom Acrylic Front Panel Overlays, Stainless Steel and Aluminum Front Panel Overlays to meet your exact specifications. Polycarbonate, Polyester, Acrylic and Aluminum materials of various size, thickness, and finishing options are used to optimize the functionality and aesthetic appeal of your product.
Acrylic Front Panel Overlays
Acrylic front panels may be used instead of metal control panels and are often used within the music industry. Our capabilities to digitally print and laser cut make an acrylic control panel the perfect plastic alternative.
Etched and Filled Front Panel Overlays
Etched and filled stainless steel front panels are manufactured by us for use in the Marine and Oil & Gas Industries due to the chemical resistant and long lasting durability.
Anodized Aluminum Front Panel Overlays
We offer anodized aluminum front panels that can be screen or digitally printed enabling us to produce high volumes for production and low volumes that are ideal for prototyping.
Front Panel Graphic Overlays Features
Front Panel Graphic Overlays are manufactured in a variety of shapes, sizes and materials, customizing each label to your industry and application requirements.
Printing via spot-color or CMYK full-color imaging using digital or screen-printing processes. An unlimited range and number of colors can be printed.
Specific PMS, RAL colors can be printed, or any color can be matched from a sample, ensuring that branding and corporate colors are correct and repeatable.
Polycarbonate and Polyester Overlays, Graphic Overlays, and Front Panel Overlays can incorporate embossed buttons and decoration, LCD display windows and LED windows with transparent tints. Window tints with translucent colors can be used to indicate specific functions on Membrane Keypads. Dead front effects can be printed with semi transparent inks so LED's can be "hidden"unless they are lit up.
Embossed and Cut-outs for Switches.
Selective Textured, Combination of matte and gloss finish.
Adhesive or selective adhesive can be added for simple application procedures.
No minimum quantities. We also offer prototyping services.
Quick Turnaround Front Panel Overlays. Need your order in a hurry? Learn more about our Rapid Graphic Overlay Prototyping service.
For further information or to receive a quotation for your front panel overlay please contact us.