We are specialized in the manufacture and supply of premium quality Polycarbonate Labels, PC Labels, Polycarbonate Stickers, Lexan Labels and Lexan Stickers.
What kind of Polycarbonate Labels we do?
We can do Reverse Printed Polycarbonate Labels, Polycarbonate Labels With Sub-Surface Printing, Silk Screen Printed Polycarbonate Labels, Digital Printed Polycarbonate Labels, Full Color Printed Polycarbonate Labels, Brushed Polycarbonate Labels, Matte Textured Polycarbonate Labels, Clear/Transparent Polycarbonate Labels, Black Polycarbonate Labels and Custom Printed Polycarbonate Labels.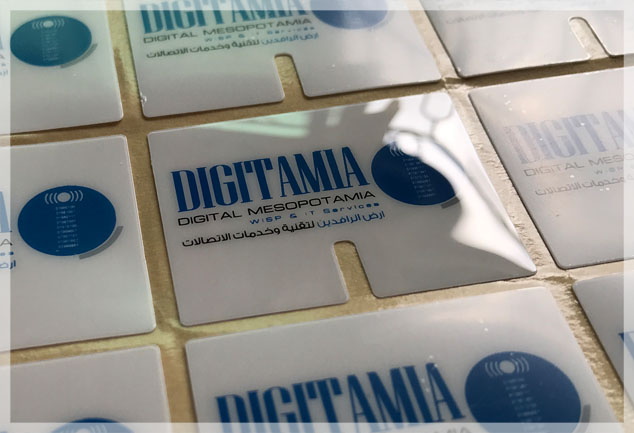 The design/artwork and background color are reverse silk screened onto the back of the clear polycarbonate material. After printing, a pressure sensitive adhesive is applied to the back of the polycarbonate. Polycarbonate labels can be die cut to almost any shape and size.
Polycarbonate Labels Features
Polycarbonate Labels are highly resistant to extreme temperatures, exposure to harsh chemicals, resistant to impacts and abrasions.
Polycarbonate Labels Applications
Since the inks are printed on the back (Reverse Printed Polycarbonate Labels) or subsurface (Polycarbonate Labels With Sub-Surface Printing), they can't be rubbed, scuffed or scratched off. This makes polycarbonate an excellent choice for labels, stickers, nameplates, control panels, instrument panels and overlays.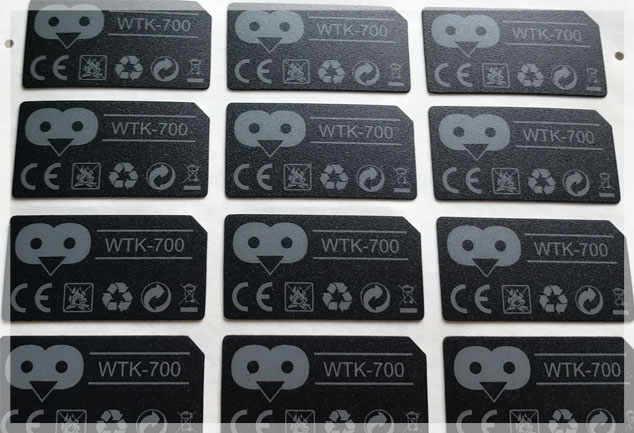 Because they resist mild chemicals, Polycarbonate labels are suitable for extreme harsh environments and industrial applications.
Polycarbonate Labels, Graphic Overlays can be used for a variety of purposes like appliances, industrial equipment, electronics, control systems, automobiles, digital device labeling, computer hardware, weighing scale, instrumentation, kitchenware labeling, medical field, auto industry, warning labels for industrial machinery or hazardous locations, military equipment, aircraft, airlines and numerous other applications.
You can use Lexan labels for
Graphic Overlays
Control Panels
Logos
Nameplates
Prototype Labels
Inventory Labels
Product Identification Labels
Custom Printed Polycarbonate Labels
Our range of polycarbonate labels can be customized on the following basis.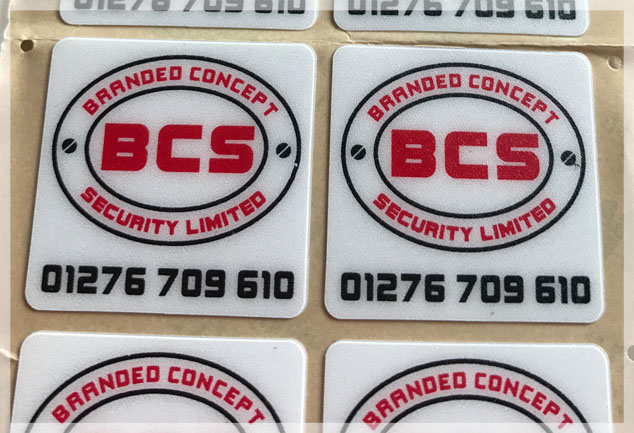 Polycarbonate labels can be die cut to fit any of your products.
Adhesive or selective adhesive can be added for simple application procedures.
Polycarbonate labels can be embossed and debossed.
Texture or selective texture can be added to the surface of an polycarbonate labels.
Transparent and tinted windows and graphics for backlighting for LCDs, LEDs and other displays.
Material: Polycarbonate (PC), Lexan Polycarbonate
Thickness: 0.125mm, 0.175mm, 0.25mm, 0.38mm, 0.5mm, 0.76mm
Print Color: Spot Color, Pantone Color, CMYK Full Color
Shape: Custom shape and size.
Adhesive: 3M467, 3M468 etc.
Temperature: Max +125 ℃
Finishes: Clear/Glossy, Matte, Textured, Brushed or Embossed
Windows: Clear Windows for Displays or Indicator Lights, Transparent Windows, Adhesive-free Windows, Tinted Windows, Dead front windows are possible.
Use: Indoor/Outdoor
Quantity: No minimum quantities
Fast turnaround: 4-6 working days.
If you need more info about Custom Printed Polycarbonate Labels or to get a free quote, please contact us now.