We are specialized in supply of premium quality Custom Printed Polyester Graphic Overlays, Polyester Overlays, PET Overlays, Screen Printed Polyester Graphic Overlays, Polyester Control Panels and Polyester Membrane Switches for industrial controls, household appliances, instruments and other markets.
About Polyester Graphic Overlays
Polyester Graphic Overlays are extremely weather, scratch resistant and UV resistant stickers. Polyester graphic overlays (PET Graphic Overlays) are strong, durable and have excellent clarity and legibility characteristics. Recommended for membrane switches, especially when embossing is involved, such as keyboards and keypad switch overlays.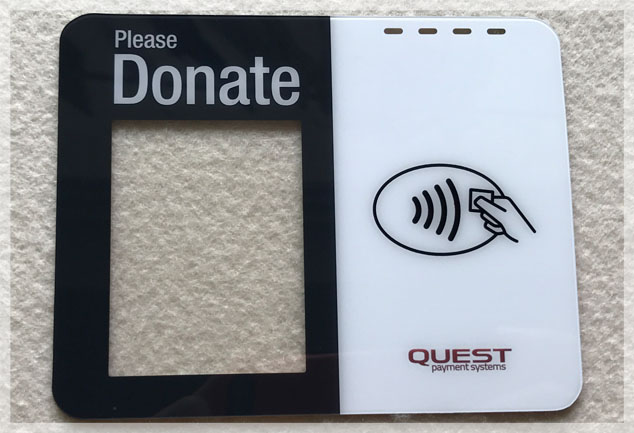 Additional characteristics provided by polyester graphic overlays include: Dimensional stability, Suitable for outdoor use, Excellent heat resistance, Abrasions and scratch resistance, Resistance to chemical and corrosive materials.
Polyester Graphic Overlay is a kind of silk screen printed or digital printed on the sub-surface polyester sheet or panel that is placed on the surface of a product. After printing, a pressure sensitive adhesive is applied to the back.
Polyester is the more durable choice for membrane switch overlays.
Polyester Graphic Overlays are more expensive than polycarbonate graphic overlays but more durable. Greater tensile strength than polycarbonate, so flexing of the keys does not cause wear.
Polyester Graphic Overlays Applications
Polyester Graphic Overlays can be used for a variety of purposes like appliances, industrial equipment, electronics, control systems, auto industry, automobiles, instrumentation, computer hardware, weighing scale, kitchenware labeling, digital device labeling, medical field, branding on outdoor equipment, warning labels for industrial machinery or hazardous locations, military equipment, aircraft, airlines and numerous other applications.
Whether you are in the auto industry, medical, instruments, electronics or consumer market, polyester graphic overlays can provide the needed durability for years of use of your product.
Custom Printed Polyester Graphic Overlays
Graphic Overlays China can produce your custom Polyester Graphic Overlays, including Polyester Warning Stickers, Polyester Overlays, Polyester Control Panels, PET Overlays, Polyester Overlay Printing, Sequentially Numbered Polyester Overlays, Bar Coded Polyester Graphic Overlays, Screen Printed Polyester Graphic Overlays and Weighing Instrument Polyester Graphic Overlays.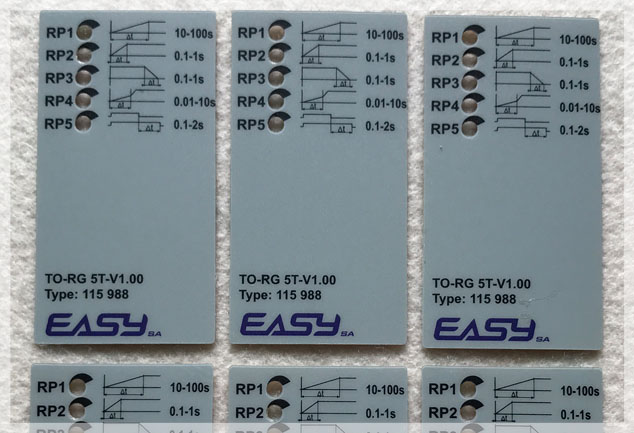 Thickness
150 microns, 200 microns and 280 microns.
Finishes
Polyester Graphic Overlays are available in clear, velvet and embossed. Brushed, mirror or chrome effect. The more common choice is the velvet finish which is excellent for hiding surface scratches.
Texture or selectively textured finishes can be added to the surface of an graphic overlay.
Adhesive
Nitto Adhesive, 3M9448A, 3M467, 3M468, 3M9080, 3M200MP, 3M200LSE, 3M300LSE, 3MVHB.
Adhesive or selective adhesive can be added for simple application procedures.
Printing Color
UV Ink, PMS Color, CMYK Color. We can do CMYK Full Color Printing Graphic Overlays with UV Digital Printing Machine or UV Offset Printing Machine.
Special Color like Holographic Ink, Mirror Silver Ink, Mirror Gold Ink, Chrome Silver Ink, Glow in the Dark and Fluorescent Inks.
Printing Methods
Silk Screen Printing, UV Digital Printing or UV Offset Printing.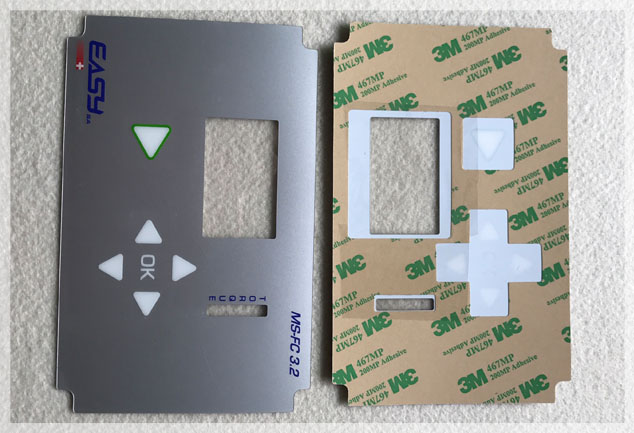 Temperature Ranges
Maximum temperature ranges from 60°C (140°F) to 125°C (257°F).
Windows
Clear Windows for Displays or Indicator Lights, Transparent Windows, Adhesive-free Windows, Tinted Windows.
MOQ
No minimum order quantities. Small Order Acceptable.
Turnaround
Fast lead time 4-6 working days. We can do Rapid Graphic Overlay Prototyping service in 1 or 2 days.
All of Polyester Graphic Overlays can be custom printed according to your specifications.
Looking for a Polyester Graphic Overlays or Polyester Membrane Switches solution for your end product?
Contact us now for more information about polyester graphic overlay or a free quotation.