We offer Customized Screen Printed Graphic Overlays, Screen Printing Graphic Overlays, Silk Screen Printed Front Panel Overlays, Screen Printed Nameplates, Custom Screen Printed Overlays from China.
A graphic overlay provides a powerful impression of your equipment and often provides a critical high level of function. Graphic overlays provide a high quality finish for products, communicate messages, and act as the interface between people and products. Screen printed graphic overlays provide excellent durability, functionality and decoration.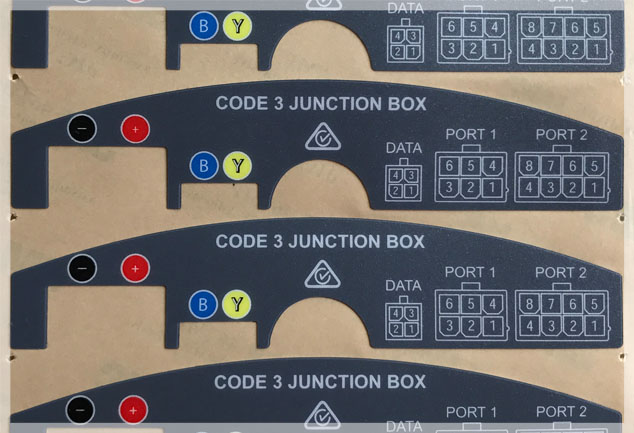 We manufacture high quality, professional subsurface printing for scratch, wear, UV and chemical resistance, screen printed overlays for a number of graphic and industrial applications including warning and safety messages, operator or consumer instructions and branding and product identification.
We have extensive experience screen-printing onto a wide variety of materials. This includes screen-printing onto stainless steel, anodized aluminum, acrylics, polycarbonates, vinyl, polyester etc. Most often produced from polycarbonate or polyester, films can be scratch resistant, UV tolerant, fire retardant, and chemically resistant.
Graphic Overlays Applications
Graphic Overlays are commonly used as faceplates, membrane switches or decorative features for control panels, food equipment, instrumentation, consumer appliances, medical devices, automotive and electronics.
The printing is applied under-surface which protects the text and graphics from wear and abrasion. A variety of surface finishes are available from tinted windows, selectively applied adhesive, light blocking ink, selective texture, embossed keys and screen or digitally printed graphics to make a decorative panel a functioning part of your product.
Multiple colors and complex graphics can be printed as well as transparent, tinted or dead front windows for displays and LEDs.
Custom Screen Printed Graphics
Graphic Overlays China supplies graphic overlays on a broad array of materials and substrates, including Polycarbonates, PVC and Polyesters, made via a number of different printing processes like silk screen printing, digital printing, offset printing. Printing is available in a wide range of colors.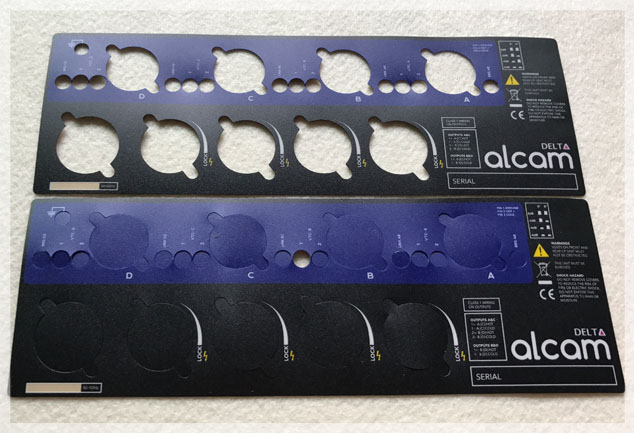 Customized Silk Screen Printed Name Plates, Front Panels, Nameplates, Fascia Panels, Control Panels, Screen Printed Labels and Screen Printed Graphic Overlays.
Printing and Inks
We can do CMYK Full Color Printing Graphic Overlays with UV Digital Printing Machine or UV Offset Printing Machine.
We use a screen printing process for production. Digital printing is also possible, especially for prototypes, but less usual for series production of front panels. Screen printing delivers the needed professional quality, chemical resistance, and true PMS colors.
Print Color
UV Ink, PMS Color, CMYK Color, Silver Ink, Gold Ink, Mirror Silver Ink, Mirror Gold Ink, Holographic Ink, Fluorescent Ink and Glow in the Dark Ink.
Screen Printed Overlays
Graphics are traditionally screen printed, using spot color process, UV inks, Pantone colors, RAL colors, or metallic(Mirror Silver, Mirror Gold, Matte Silver, Matte Gold) inks. Quality silk screen printing to meet even the most exacting requirements.
Graphic Overlay Printing can be done with digital, screen-printing, or a combination of printing processes.
We can print your overlays with photos, logos and graphics in full color with CMYK 4-color process.
We offer our customers affordable short-run printing or prototypes. Digitally printing your overlay provides endless design flexibility and imagination.
UV digital printing utilizes creates fine gradients, and full color images.  It is most economic for lower quantity, multicolor parts.  It can be combined with screen printing to create special effects.
We can print your graphic overlays by offset UV printing for big quantities and high resolution requesting.
Graphic Overlay Materials
Graphic Overlays are generally printed on the backside (sub surface) of a clear material including Polycarbonates, Polyesters and PVC etc.
Lexan Polycarbonate nameplates have superior mechanical strength, toughness and clarity. The Polycarbonate Graphic Overlays can also survive extreme environmental conditions, such as high temperatures, chemical abrasions and corrosion. Polycarbonates are known for their dimensional stability, optical clarity, printability and graphic design freedom.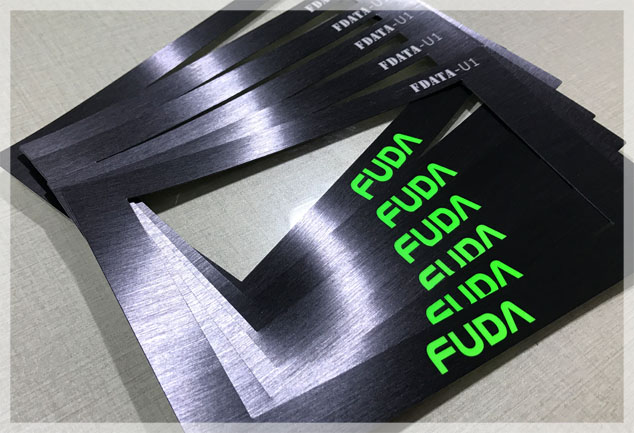 Polycarbonate Overlays and Nameplates are suitable for extreme harsh environments and industrial applications like aircraft manufacturers, airlines and military all use sub-surface printed labels and interior signs because of the excellent durability sub-surface printing offers.
Polyester Graphic Overlays are extremely weather, scratch resistant and UV resistant stickers. Polyester graphic overlays (PET Graphic Overlays) are strong, durable and have excellent clarity and legibility characteristics. Recommended for membrane switches, especially when embossing is involved, such as keyboards and keypad switch overlays.
Additional characteristics provided by polyester graphic overlays include: Dimensional stability, Suitable for outdoor use, Excellent heat resistance, Abrasions and scratch resistance, Resistance to chemical and corrosive materials.
PVC Graphic Overlays are cheaper than Polycarbonate and Polyester Graphic Overlays.
Screen Printed PVC Front Panel Overlays are suitable for indoor and outdoor use, excellent abrasions and scratch resistance, resistance to chemical and corrosive materials. PVC Graphic Overlays are strong and durable.
Silk Screen Printed PVC Graphic Overlays can be used for a variety of purposes like industrial equipment, electronics, appliances, instrumentation, computer hardware, telecommunications equipment, medical field, weighing scale, kitchenware labeling, digital device labeling, branding on outdoor equipment, warning labels for industrial machinery or hazardous locations and numerous other applications.
Material Thickness
Polycarbonate Material Thickness from 125 micron to 750 micron.
125 microns, 175 microns, 250 microns, 380 microns, 500 microns and 750 microns etc.
Commonly used is 250 microns thickness.
Temperature Ranges
Maximum temperature ranges from 60°C (140°F) to 125°C (257°F).
Adhesives used for Screen Printed Graphic Overlays
To finish your custom screen printed graphic overlays, we offer a full range of 3M and equivalent adhesives.
3M9448A, 3M467MP, 3M468MP, 3M9080, 3M9075, 3M200MP, 3M200LSE, 3M300LSE, 3MVHB, 3M Electronics 3M9448HK, TESA and Nitto Adhesive etc.
3M 467MP: Recommended for smooth or light textured surfaces. In most cases, flexible graphic overlays are finished with 3M 467MP on the backside. This is an excellent adhesive for bonding to smooth metal and high surface energy plastic surfaces.
3M 468MP: Recommended for medium textured to rough surfaces. For rougher surfaces, 3M 468MP adhesive is recommended.
3M 300LSE: Recommended for low surface energy plastics, polypropylenes. Some surfaces such as powder coated surfaces have lower surface energy, 3M 300LSE are more appropriate for low surface energy applications.
Another method is to print 3M7533 glue with screen printing.
Adhesive Free for windows and buttons.
Adhesive or selective adhesive can be added for simple application procedures.
We are able to produce quality industrial screen printed graphic overlays in a variety of shapes, sizes and printing options to meet your exact specifications.
Finishes
Glossy, Matte, Textured, Brushed, and Selectively Textured finishes are available. The more common choice is the velvet finish which is excellent for hiding surface scratches.
Selective Texture
Texture or selectively textured finishes can be added to the surface of an graphic overlay.
Windows, LCD Windows, LED Windows
Graphic overlays are commonly provided with clear windows for viewing LCD's.
If your overlay will be placed over LCD, LED'S or other types of electronic displays, a clear or colored tinted window can be created. This allows the interface to have a clean look while still providing all of the required functionality.
Window tints with translucent colors can be used to indicate specific functions on membrane keypads.
We can print tinted windows in a range of colors like black, grey, red, green, orange, yellow etc.
Usually graphic overlays windows are adhesive-free windows.
Dead Front
Dead front overlays offer all the benefits of our standard graphic overlays as well as offering additional panels that are only visible through reverse lighting. Dead front effects can be printed with semi transparent inks so LED's can be "hidden" unless they are lit up.
Embossing and Buttons
Embossing the overlay surface delivers a unique look and feel to your products interface.
Embossing is a technique that creates a 'bubble' or a raised section of the switch to highlight button positions or give a tactile feedback to the user.
Embossing can be easily integrated into the manufacturing of graphic overlays to give buttons a positive feel.
Embossing does require additional tooling.
Light Block (Blocker)
Usually a printed color like white, black or sometimes even metallic inks are used to increase opacity. Especially needed on overlays with illuminated displays to prevent light from "bleeding" into other areas of the panel.
MOQ
No minimum quantities. We also offer prototyping services.
Turnaround Time
Typically 4-6 Working Days.
We can deliver rapid prototype graphic overlays as quickly as 2 business days after prototype design approval. Graphic Overlays China has the technology and equipment to provide your business with small runs of quick turnaround graphic overlays. Please contact us to verify if your design requirements will meet our quick turn specifications.
Request a Quote
Looking to use a graphic overlay for your application, we are here to help you will all your graphic overlay needs.
Please contact us for more information and a free quote for your specific needs.